The Ultimate A-Z guide To Affiliate Marketing— Your Guide To Financial Freedom
If you've been lurking on the Internet for some time now, you have probably come across terms, such as "affiliate," "affiliate marketing," "passive income," etc.
All of us secretly dream of financial freedom. Not having to wake up and worry about getting the bills paid at the end of the month is a very liberating feeling.
But how do you reach that stage?
First principles: What Is Affiliate Marketing?
Affiliate marketing is a tested method with which people on the Internet are making money. However, you also need to understand that affiliate marketing is not going to be a quick get-rich scheme for most of us.
People often ask me, "Hey, Charles: What role is played by an affiliate marketer?"
I tell them that an affiliate marketer is a middle-man who introduces others to products and services. In other words, they enable transactions to be made between two parties.
An affiliate marketer need not develop the product, ship the product, or even handle the payment to the merchant.
Their only responsibility is to refer the product to a potential customer.
And if the customer buys the product, then BINGO. You get your commission.
This might come as a surprise to you, but a lot of bloggers, celebrities, and websites are participants in this game of affiliate marketing.
The History Of Affiliate Marketing
Referral marketing has been an integral part of civilization for as long as we can remember. In pre-internet days, referral marketing involved handing out business cards.
Interent caused a big disruption in the marketing world. This was because with the internet introduced the concept of "cookies". For those of you who know a little bit about the Internet, the term cookies are something you should be familiar with.
Cookie is merely temporary data stored on your browser. And this cookie serves as a tracking mechanism that tells you about the finer details of a purchase. The availability of cookies also allows the referrer to get his/her commission.
William Tobin, the Founder of PC Flowers and Gifts, was the first internet affiliate marketer. He started the PC Flowers and Gifts Affiliate Program in 1989. Soon after, he was granted a patent for his idea.
The Affiliate Business Model
The affiliate business model is all about connecting your prospects to solutions offered by certain businesses.
The blogger or website owner shows you a new product, explains to you what this product can do for you, and includes affiliate links. As a buyer, your visitor incurs the same cost, as they would if they bought the product through a manufacturer.
Setting up a shop to sell your Affiliate Products:
One way of getting started with affiliate marketing is to set up your own shop/ ecommerce store. You can read more about that in another blog post.
In this guide, we'll only touch the surface.
Shopify: You've probably heard of Shopify, right? Using Shopify, you can easily set up your own store and start selling your chosen products. Details on how to set up your Shopify store can be found here.
Woocommerce: Woocommerce is a WordPress Plugin that allows you to conduct transactions from within your site. For details on how to set up Woocommerce on your site, consider visiting the following page.
Steps You Can't Miss If You Want To Build A Successful Affiliate Business
It is of critical importance for you to do your market research right. You want to find out a niche in which you can position yourself as an authority.
An untapped niche that you know is going to be profitable and one which aligns with your passion.
Finding out a niche that fits both the bills can be tough.
While you think about what niche market is right for you, you need to think about three things:
a) The niche market
b) The associated niche product
c) And the niche audience
Let's speak briefly on why these play a crucial role in determining your success.
1) Niche market:
As someone who's just starting, you don't have the resources to compete with industry giants. They have been spewing up content for ages, and their backlink profile might have reached an unimaginable state. Taking that into account, can you compete with the likes of them?
And that is precisely why you need to find that small space, that small area where there is business potential.
2) Niche product:
But, it's enough to only be able to zero in on your niche market. You also need to be able to select the right niche product. What good will it do if you only have a market but no viable products that you can refer to visitors on your site?
3) Niche audience:
What kind of traffic does your chosen niche market bring? If the traffic volume is very low, that route is probably not a profitable venture to pursue. A decent niche audience is needed if you want your affiliate marketing efforts to pay dividends.
So, choosing the right niche requires ample amounts of research on your part. Don't be disheartened at the thought of putting in grueling hours of research, but rather rejoice.
Rejoice because once you manage to get your research right, you set up the right foundation, which will allow your affiliate business to thrive in the coming years.
Tips And Tools That Make Researching The Niche Market Easy
Hearing about research, it's natural for you to be a little scared. Thankfully, there are plenty of available tools that make the niche market research process easy and hassle-free.
Some of these tools include:
Keyword research tools:
Purchasing things on the Internet starts with a search query. And it's not a good idea to use our intuition to predict what users are typing on to google's search bar. Instead, freemium keyword research tools allow us to figure out exactly what users are searching on google.
Long keywords with decent volumes should be your top priority. This is because people typing in long keywords are at the lower end of the sales funnel and are hence more prepared to make that buying decision.
The other thing that you want to look out for when researching keywords is to consider the difficulty of ranking for that keyword.
If other powerful companies already occupy your targeted keyword with strong backlink profiles, then it's probably not a good idea to invest your efforts on that specific keyword.
Some of the best keyword research tools out there include:
Moz Pro: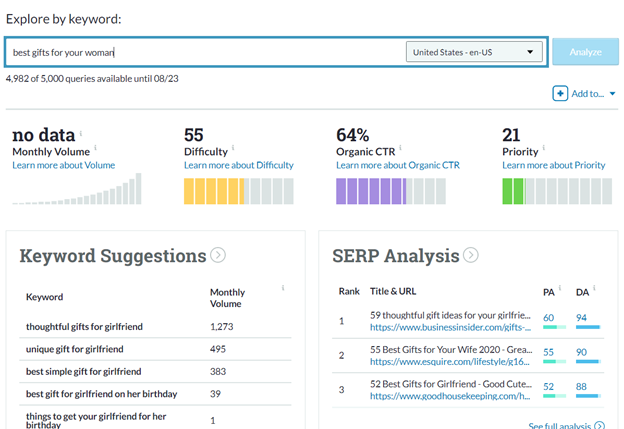 The Moz Pro tool has this feature called the keyword explorer, which shows the difficulty of ranking for a particular keyword, the relevant search volume, and other data on LSI keywords.
Google Keyword Planner: is another great research tool worth considering. The main advantage of this tool is it exports all of its data directly from Google. The only problem is you the traffic volume is given in a range format, which prevents you from figuring out the exact search volume for the keyword.
Keywords Everywhere: The next tool that you want to consider is the Keywords Everywhere tool. This tool gives you data on related keywords relevant to your query, but it also provides you with further information about other terms that people search for.
SEMrush: SEMrush is one of the best keyword tools available out there.
Personally, I find the gap analysis tool in SEMrush to be a tool of great utility. It allows you to find out keywords that are being targeted by your competitors.
Ahrefs Keyword explorer: For most people, Ahrefs is a link-building tool, but the truth is their keyword tool is also quite handy.
If you want to know more about the best keyword research tools, consider visiting this blog post.
Domains and Domain research tools:
To build your affiliate business, you also need to select a suitable domain for your site.
This means that you need to focus on selecting the right domain name.
Now, domain names can fall into three main categories.
Exact match domains: Using exact match domains can make Google conclude that you've overoptimized your site, and this can result in a penalty.
Partial match domains: Partial match domains are those domain names that include the keyword in the domain name accompanied by some other name.
For instance, if you are running a coffee affiliate site, and your main keyword is "coffee maker, " your partial match domain can be something like:
Brandable domains: These are domain names that represent a brand. Brandable domain names have high popularity with search engines like Google.
Things To Keep In Mind Before Choosing A Domain Name For Your Site
Usually, it's not a good idea to use domains with a record of receiving a penalty from Google.
Archive.org is one place where you can check the history of your chosen domain.
You also want to end your domain name with a .com ( more preferable)
Depending on their history, domains may be classified into three categories:
Aged domain
Dropped domain
Fresh domain
Aged domains are good for SEO purposes. However, there are also problems associated with using aged domains. Let's go over the pros and cons of using an aged domain.
Domainsbot is a good site to use to get an idea if a domain name is available or not.
In addition, GoDaddy also holds auctions to sell domains. This is something you want to consider.
Buying and selling domains is big business in itself.
The bottom line here is: The right domain name can help you avoid Google penalties and make the right business decisions.
Finally, you also need to figure out the right hosting service.
Choosing A Hosting Service
The next thing that you need to consider is getting the right hosting service.
Now, you have the option to choose either self-hosting or free hosting.
First, let me tell you that free hosting is not a good idea if you are serious about affiliate marketing.
That's because if you host your site on platforms offering free hosting, you don't have that independence. Also, your domain will run as a subdomain of the platform where you are hosting your site.
It's a good idea for beginners to start with a shared hosting service and build your way up from there.
Now hosting services can be classified into the following categories:
Shared hosting
VPS hosting
Dedicated hosting
Content delivery networks
However, it is important for you to keep track of the traffic to your site. If, at any time, your site crashes due to site overload, then this will be viewed in a negative light by Google. Concurrently, your site may suffer from a decline in rankings.
For SEO purposes, you want to eventually move to a dedicated hosting service. That's because page loading time is a critical Google ranking factor.
But, you can do that later on as well.
You can read more about the best hosting services here.
Talk about your needs with your hosting service provider and upgrade accordingly.
And make use of analytics to figure out what kind of hosting service is needed for your site.
And at this point, you might be wondering whether it is absolutely necessary to have a website to become involved in affiliate marketing?
Well, the answer is no. We'll also cover the other forms of affiliate marketing in our post as well.
Affiliate Programs Vs. Affiliate Networks
The next concept that you need to be clear on before taking your first steps in the affiliate world is to be clear about the difference between the affiliate program and affiliate network.
Here's the thing, affiliate programs are offered by individual companies. This company may be huge, like Amazon, and thereby allow you to profit from the sales of a wide variety of products.
Affiliate networks are amalgamations of several different companies or merchants that may not have the necessary resources to administer their own affiliate programs.
For merchants, affiliate networks are useful in the sense that they give merchants the freedom to set their own return policies, support policies, and other associated terms and conditions.
Usually, merchants have to pay a small fee to join the affiliate network.
Some of the most famous affiliate networks include:
ClickBank
JVzoo
CJAffiliate
Rakuten
Etc.
The benefit of joining an affiliate network lies in the fact that it helps you conduct market research.
It also helps you save time by eliminating any need to manually search for potential companies that offer affiliate programs.
Also, affiliate networks help you connect with other affiliate markets and learn from them.
However, the disadvantage is, if the affiliate network finds out that you violated any terms and conditions, you might get banned from the network. And that would cause you to lose all your affiliate income.
Selecting An Affiliate Program
The first step that we've previously mentioned is to find out your niche market.
And if you are done selecting your niche, then it's time for you to use the search engine and browse through the list of affiliate directories for companies that sell products or services within your niche.
For example:
Suppose, Mr. X recently launched his niche site. He was particularly pleased with one tool, which helped him out immensely in running his affiliate business. It was SpyFu.
Smitten with how useful SpyFu can be, he decided that he wanted to promote spying tools on his site. Translating his thought to reality, he then went on to search for affiliate tools that offer an affiliate program.
And what do you know?
Mr. X discovers that SpyFu also offers an affiliate program. He is overjoyed.
Before Mr. X can move forward with promoting SpyFu on his site, he needs to keep a few things in mind. These include:
He needs to get a handle on what kind of marketing tools are offered by the SpyFu Affiliate program.
As SpyFu is basically a SaaS product, images aren't that important.
But for physical products, it's important to have eye-catching images available to capture the attention of your audience.
The other question, Mr. X, needs to figure out is: "Does Spyfu offer Mr. X any form of special discounts that he can offer to his email list?"
Mr. X should also carefully evaluate the company's cookie policy and privacy policy.
It is also likely that Mr. X will be screened by SpyFu as well.
Typically, to join an affiliate program, companies consider a few things:
The biography or profile of your page: (As Mr. X runs a business/entrepreneurship blog, this is no issue for him.
Some companies may also take your social media presence into account.
Web design and other content on your site
The amount of monthly traffic generated by your site
How you plan on promoting their product
It is crucial for them to do this because, ultimately, no company wants their product to be represented in a negative light.
The key takeaway: "Keep your website professional."
Networks
The different affiliate business models
The most common affiliate business model is the pay per sale.
But some companies also pay per lead and pay per click.
It is up to you to choose which affiliate business model is lucrative to you.
The pay per lead and pay per click model of affiliate
How do you find out which companies are offering affiliate programs?
There are several different ways in which you can do this.
The simplest method is to simply head over to Google search bar and type in the keywords:
"company name" + "affiliate"
"company name" + "join us"
Other than that, there are also plenty of directories where you can look up companies that offer affiliate programs.
Most affiliate directories offer basic information, including how-to-blog posts, program reviews, and tutorials.
Some of these merchants may be on JVZoo or Clickbank.
Overview of CPA networks:
CPA marketing is a child of affiliate marketing. The traditional affiliate marketing model involves a process where you only get commissioned every time you make a sale. On the other hand, CPA marketing stands for Cost Per Action.
If you want to know more about CPA marketing, then do check out Brian Dean's ultimate guide to CPA marketing.
Some of the most popular CPA marketing networks include:
Additionally, your affiliate business also has the potential to earn revenue via advertising.
Affiliate Marketing Without A Website
The thing that you need to understand is affiliate marketing is a form of influencer marketing.
But, how do you influence people in the first place?
By consistently showing up and adding value in their lives, you showcase yourself as an authority. And they start believing that you are the real deal.
And fulfilling this objective becomes easier if you have a website.
Why?
Well, when you have a website, you are able to rank on the search engine for particular keywords. The blog posts or articles on your site are then viewed by visitors on your site. After reading your review, if your visitor is convinced, they might consider purchasing the product through your affiliate link.
A thorough understanding of SEO is necessary if you want to use a website to rank your site.
And if you're someone with absolutely no background in SEO, then consider brushing up on the basics of SEO by reading the Moz blog.
At this point, you might be thinking, "Hey Charles. What if I don't have a website? Can I still have some of the affiliate business cake?"
Yes, you can.
You need to leverage social media sites.
Now, let's talk a bit about the most popular social media sites:
Facebook
Instagram
LinkedIn
Twitter
Pinterest
The problem, however, with using third party sites to try to run your affiliate business lies in the risk that at any time, these companies might ban you if you violate their terms of service.
Tips And Tricks About How You Should Do Social Media Marketing
The first thing that you need to figure out is:
"Does your ideal buyer persona use this form of social media?"
Instagram, for instance, is filled with beauty bloggers and models.
As such, it is only natural for Instagram influencers to promote beauty products and health products.
You also want to brush up on the gender, age distribution, geographic location of users, and other relevant data that will allow you to make your social media marketing efforts more successful.
If you're using Facebook, then paid adverts are a great way to get in front of your audience.
Caution: Some affiliate programs don't allow you to promote their products on social media. Amazon, for instance, has restrictions imposed on the kind of links that you can include in your Facebook posts.
Using LinkedIn To Run Your Affiliate Business
LinkedIn happens to be one of the most professional sites on the web. It's a place where workers from all walks of life stay connected with one another. It's the ultimate job hub.
If you are planning on using LinkedIn to run your affiliate business, then that's probably not a very good idea. Instead, it's better for you to open a company page and use that to promote your affiliate business.
Using Youtube As A Means Of Running Your Affiliate Business
This might come as a surprise to you, but Youtube is a great site if you want to share videos.
If you want to promote your affiliate business on Youtube, then what you want to do is create videos targeting your niche. What you need to keep in mind here is that:
In the early stages, you shouldn't include affiliate product sales videos, but rather your videos should contain some useful information for users that helps them solve their problems.
Over time as you build up your audience, that's when you move on to the next stage. This is the part where you start adding your own affiliate links in the description part of your videos.
Pinterest As A Means Of Running Your Affiliate Marketing Business
If you regularly surf the Internet, chances are, you've probably heard of Pinterest.
A large portion of the users on Pinterest are females, and therefore it's only natural for people on Pinterest to be inclined towards stuff that is commonly used by females. Jewelry, fashion design, dresses are just some of the few things that are liked by users on Pinterest.
Instagram:
Instagram is a great platform for conducting your affiliate marketing business, as well.
It's a place renowned for its seductive graphics and everything else.
And here's the thing. These days you have the option to choose from thousands of affiliate programs. So, if you are popular on Instagram in the health and fitness industry, then you should consider promoting health and fitness programs. The benefit of this strategy is that it allows you to leverage your existing pool of followers.
To know more about how you can get started on promoting your products on Instagram, please visit the following link.
But in general, it's best for your affiliate marketing business if you have your own site. It helps you have an established presence on the Internet.
But if you are honestly serious about affiliate marketing, then It helps to have your own site. Why?
Well, having your own site allows you to build your own email list and get started with email marketing.
To know more about how to conduct email marketing, check out our ultimate guide to email marketing. (this is the part where you link to email marketing)
SEO in the context of affiliate marketing
So, if you have a site up and running, and you're regularly publishing content on your site, then you have got the wheels rolling. But all of this effort is pointless if your site doesn't get traffic.
However, how do you increase traffic to your site?
The answer lies in SEO.
The content on your site needs to be optimized for search engines. Only then will your content be able to rank for specific keywords.
Now SEO is largely spoken off from three main points:
On-page SEO
Off-page SEO
Technical SEO
On-page SEO deals with factors that include whether the title tag on your site is of the right length, whether you are using the right keywords in your content, whether your headings have the right keywords, and so on. Another important aspect of on-page SEO is page loading time,
Off-page SEO has more to do with what others are saying about your site. That is, off-page SEO takes into account how people are talking about your site or brand on social media, and it also considers the number of backlinks to your site.
Technical SEO deals with technical factors, and includes instructions on how you want crawlers to index your site.
To know more about SEO, I recommend you brush on your SEO knowledge from the Moz blog.
My personal advice to you would be to take a holistic approach to SEO.
Anyways, once you're actively implementing SEO best practices, you should soon start seeing results. But there is one last factor that you cannot miss out on.
Analysis
Analyze your own web statistics to see what is working and what's not.
The final factor that you want to look out for is analysis. You need to set up Google Analytics for your site, and you need to have the ability to derive insights from what the data is trying to tell you.
Listen to your data and adjust your affiliate marketing action plan accordingly.
Conclusion:
In this guide, we've put in special effort to educate you on how to start your affiliate business. We spoke about market research, the importance of finding a niche, affiliate networks vs. affiliate programs, and so much more. Furthermore, we also discussed how you should go about setting up your website and the various social media channels that you can make use of to promote your affiliate business.
Being a technical genius is not necessary to get started with affiliate marketing.
Get started today.